Belmont Partners, Inc., a Chicago-based retail food and beverage broker, has launched a new Third Wing-designed web site.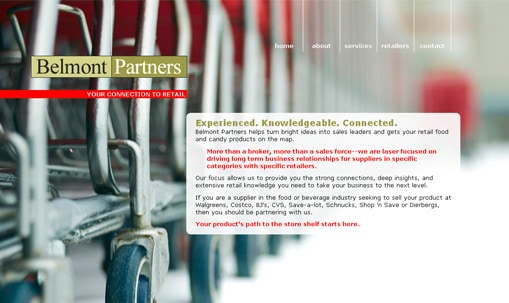 The new site showcases the breadth of offerings from Belmont, which helps suppliers in consumer package goods sell their offerings to selected national retailers such as Walgreen's, CVS, Costco, BJ's, and Shop 'n Save. Belmont handles all food and beverage categories and products ranging from salty snacks and beverages, to prepared foods and confections.
Belmont Partners' services range from product development to appointment scheduling to manufacturer sourcing.
Objectives of the new site were to utilize and enhance the company's current branding, simplify its message, and highlight its unique positioning in the food brokerage industry in a short, concise, and visually impactful manner.
Visit the new site here.