The recent sale of more than 380,000 acres in North Florida for $582 million, one of the largest land deals in Florida history, underscores the need for the real estate industry to be thoroughly on top of land values. To help buyers and sellers understand this market, Third Wing client Coldwell Banker Commercial Saunders Real Estate (CBCSRE) will conduct its proprietary  "Lay of the Land Florida Land Conference" on April 4 at the Streamsong Resort in Polk County.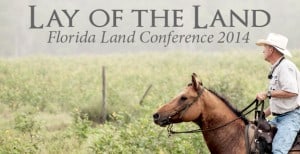 Since 2010, CBCSRE has conducted a comprehensive, verified study of property sales in Florida that is presented at the conference. "We have invested in the development of methodology to track and verify significant land sales in Florida, including grove, timberland and ranch acreage," said Dean Saunders, ALC, CCIM, owner/real estate broker of CBCSRE. "This is the information buyers, sellers and developers need to make the right deals."
"The 'Lay of the Land Market Report' is outstanding," said Robert Thomas, Chair of the Florida Land Council. "It provides concise and accurate information on a broad spectrum of land use and values and is an important and very valuable resource for Florida landowners."
About the Conference
The 2014 Lay of the Land Florida Land Conference is the industry's premier land values event for major Florida landowners, buyers, and developers.  The 2014 Lay of the Land Market Report will be presented and analyzed by speakers including Mark Dotzour, PhD, Chief Economist & Director of Research Real Estate Center, Texas A & M University; Rick Dantzler, State Executive Director, Farm Services Agency Florida; and Dean Saunders. Visit www.layofthelandconference.com or call Lauren Saunders at 863-614-0062 for more information.
About CBC Saunders Real Estate
Coldwell Banker Commercial Saunders Real Estate is an authority on all types of Florida land, transacting over $1 billion in sales from 1996 through 2013. Expanded in 2013 by adding the CBC Saunders Real Estate | Forestry Group with advanced timberland expertise, this team offers advisory and transactional services through the home office in Lakeland, FL and its worldwide network of CBC affiliates.