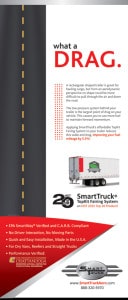 SmartTruck Systems, a Third Wing client, announced that its TopKit Fairing System, an innovative approach to aerodynamically improving fuel mileage for long haul trucks, has been named an HDT Top 20 product for 2015 by Heavy Duty Trucking Media.
The announcement was made at an award presentation by HDT at the 2015 TMC Annual Meeting & Transportation Technology Exhibition in Nashville, TN, on February 17, 2015.
The TopKit is designed to directly reduce the low pressure wake that creates drag behind all trailers, resulting in less drag and 5.5% fuel savings. (TopKit drag reduction performance was recently validated by the University of Tennessee SIMCENTER.)
In addition, The TopKit helps both independent operators and fleets address increasing regulatory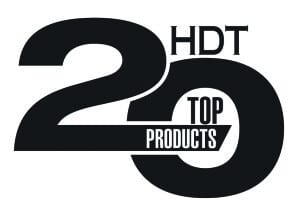 requirements as an EPA SmartWay® Verified and C.A.R.B. Compliant solution.
SmartTruck Systems is a pioneer in bringing advanced aerodynamic solutions to the trucking industry. Third Wing is proud to be the firm's marketing agency and supports SmartTruck on challenges ranging from brand development and advertising, to web and Email marketing, to sales collateral and North America dealer network marketing support.