Zeldis Research Associates, a long-time Third Wing client, will be exhibiting at this fall's SIR 44th Annual Conference and Exhibit Fair, November 3 – 5 in Indianapolis. The event is focused on helping insurance companies take customer engagement to the next level.
Zeldis will also be presenting a Health Track session on Tuesday, November 4 at 1:00PM.  The session is entitled, "5 Research-based Insights About HCR: Perspectives from Employers, Brokers and Consumers"  It will be presented by: Ken Zeldis, Principal and Christine DiMeola, Senior Research Director.
Zeldis is known across the industry as "the company that distributes cupcakes" at their tradeshow booth.  The cupcakes have become famous (or infamous?!) and a highly anticipated part of these conferences.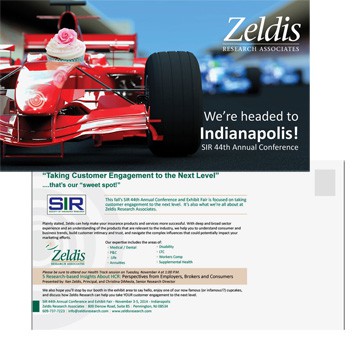 Zeldis can helps make insurance products and services more successful. With deep and broad sector experience and an understanding of the products that are relevant to the insurance industry, Zeldis helps clients to understand consumer and business trends and the complex influences that could potentially impact their insurance product marketing efforts.
Third Wing assisted Zeldis in event booth branding, direct mail promotion, and pre- and post- email marketing promotion.